Let's Get Together – making an impact at Cosgrove High School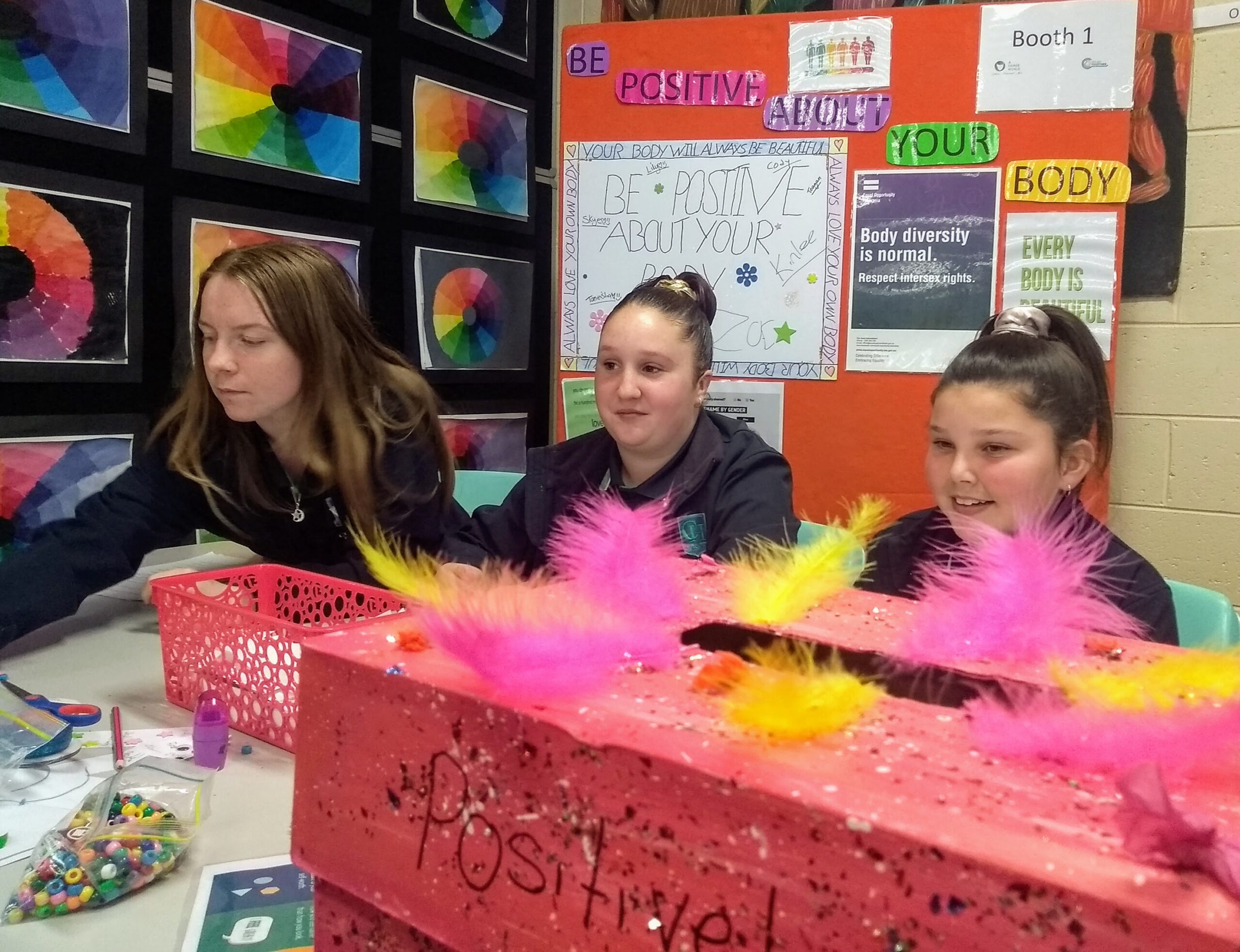 The Let's Get Together program is more than an anti-bullying program. It can change school culture. The program supports schools to partner with their students and the community to develop students' diversity competence – the knowledge, skills and dispositions that contribute to a respectful school culture. A Fairer World has been working with Cosgrove High School to implement Let's Get Together for four consecutive years and the results show that it's working.
You can feel change in the air when you walk into the school. Student voices reflect this change:
"when we were in Grade 7 [four years ago], this school was pretty violent…these days, well I can't remember the last time there was a fight!" (Grade 10 Student)[i].
Assistant Principal, David Bryant, says that the program, "has been an important contributor to our school's improvement over the past few years. The Let's Get Together program is a fantastic program to support schools to harness student voice and agency, a key component of a connected, aspirational and respectful community of learners".
Teachers agree that the Let's Get Together program is contributing to the school's culture change agenda and is "integral to sustaining the inclusive school culture". They believe that it "plays a crucial role in explicitly teaching our students about diversity and empowering them to be the positive change" and is "a key part in shaping the Cosgrove way". [ii]
The local community has also noted the change in the culture and voted with their feet, with an extraordinary 55% increase in enrolments over the past three years.
Key findings of the 2021 independent evaluation
In 2021, the program at Cosgrove High School was run with 75 students from 3 grade 7 classes. At the culminating Action Day, these students presented 28 different projects that they thought would help to make the school more inclusive. The projects they chose and developed had names such as:
Everyone Belongs (to stop bullying)
Be Positive About Your Body
Love is Love (about LBQTI+ allyship)
All Skin is Beautiful (an anti-racism project)
The Action Day was attended by Her Excellency the Honourable Barbara Baker AC, Governor of Tasmania, as well as ABC and WIN news crews. Students were confident and articulate when speaking to media and dignitaries alike.
"We have all been body shamed so we decided to do something about it and tell people that your body is ok"
"Use your voice"
"Everyone belongs, no matter what colour they are or what country they are from"[iii]
Key findings from Dr Stewart's report include[iv]:
High levels of student engagement with the program – 72% of students were able to articulate an understanding of the program's key messages.
Evidence of student learning and commitment to build on learnings – 86% of students indicated they would like to build on the LGT program at school next year.
In relation to the development of key diversity competence skills, staff rated students' improvement as between 8 and 9 (on a 10-point scale on a staff post-program survey), noting particularly respect and tolerance for each other and confidence.
Staff reported noticing "more cohesion" in class, with "students getting along better together and less nit-picking with each other". This change in class climate was attributed by this teacher "directly to the LGT program making them aware that other people matter."
The impact of the program over time has, according to the Year 10 mentors who were interviewed for the evaluation, been "huge". The program is "well known in the school now" and has "opened everyone's eyes to what's not acceptable here".

When we were in Grade 7 [four years ago], this school was pretty violent…these days, well I can't remember the last time there was a fight!
Bullying and racism used to be big here, but it's not like that anymore, everyone mixes with each other, there's no judgement and you can be whoever you want to be here now – the school community gets better every year!"
What is it that makes the program so successful at Cosgrove High School? Our answer to this question is that it's a carefully designed, evidence-based program, and Cosgrove High School ticked all the boxes for effective implementation. Independent program evaluator, Dr Sarah Stewart, identified the following as the key factors in her 2021 Let's Get Together Program Evaluation Report for Cosgrove High School:
Commitment to the program as clearly demonstrated by school leaders allocating substantial time for program planning and implementation.
Alignment of the program's ethos with the school's values and culture, including a strong focus on student voice.
Enthusiastic and experienced teachers delivering the program.
Flexible organisation, coordination and support provided by A Fairer World.
The Let's Get Together program aims to give students a voice and the improvements seen at Cosgrove High School reinforce the effectiveness of the program in supporting positive culture change in schools. The power of Let's Get Together is that it motivates and skills students to address bullying behaviours and become agents for change.
The Let's Get Together program is delivered by A Fairer World with funding assistance from the Tasmanian Department of Education.
——————————————————————————————————————————
[i] Cosgrove High School 2021 Let's Get Together Evaluation Report, Dr Sarah Stewart
[ii] Cosgrove High School 2021 Let's Get Together Evaluation Report, Dr Sarah Stewart
[iii] All quotes are direct transcripts from grade 7 student interviews with WIN News segment, 21/9/2021
[iv] Cosgrove High School 2021 Let's Get Together Evaluation Report, Dr Sarah Stewart