Our programs
Our programs are co-developed and co-delivered with Tasmanians who have experienced stigma and discrimination.
Their voices are central to all our work because we know that engaging with authentic voices is the key to lasting social change.
Our innovative programs create positive change in workplaces and schools, as well as for Tasmanians who experience stigma or discrimination.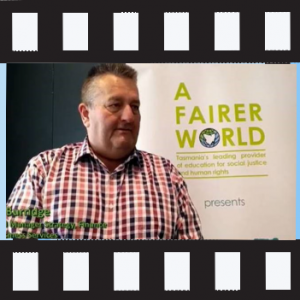 "I think, as we develop our culture at TasNetworks, we've got to open our minds up and leave unconscious bias behind and I think what the Human Library brings are great stories about diversity and inclusion." Learn more...
As a young woman, Marzi felt the sting of being restricted by strong laws imposed by the government of her homeland, Iran. It was by chance that Marzi connected with A Fairer World and soon became a human 'book' in the Hobart Human Library Continue reading...
After intensively studying English through the Young Migrant Education Program at TasTAFE and participating in projects including Students Against Racism, the Hobart Human Library and Women's Business... Learn more...
"Oh hey, I'm transgendered" is how Andy chooses to open the story he shares with audiences. There are many turning points in Andy Gall's life that have shaped who he is today, his story as a human 'book' is just one of them. Continue reading...