Deborah – author, advocate & human 'book'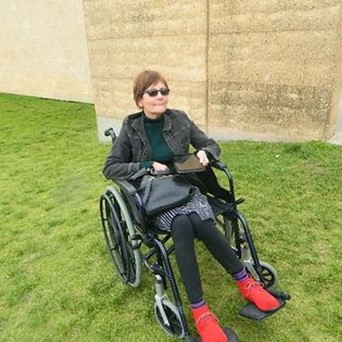 What's it like to be under the control of an abuser, a man who professes to love you, yet abuses you daily for 25 years? It's like being in a war zone.
Deborah Thomson is an author of two books detailing her lived experience of family violence and coercive control. She is physically disabled and can no longer work in paid employment, so devotes her time advocating for victims of domestic violence through Engender Equality, a not-for-profit organisation based in Tasmania.
Deborah answered a call out for new human 'books' with A Fairer World. Although living in the Northwest of Tasmania Deb is able to attend events all over the state via Zoom. Deborah is also a human 'book' for Living Library Launceston, an organisation that mainly delivers presentations in secondary schools.
Deborah wanted to be a human 'book' to reach out to the youth demographic. As young people they do not have the knowledge adults do for recognising the subtle forms of partner abuse; by informing young minds Deborah feels that this may prevent teens from embarking on an abusive relationship themselves.
"We make a difference when we use our voices to instigate positive change. Being a human 'book' for A Fairer World does exactly that! Very empowering."